I am very fortunate that I love my job. The enjoyment comes in many forms, some I have written about on this blog before. But in simple terms I am rooted in technology and I have always enjoyed the creative aspect of problem solving. In addition to this I love working with people, be that team building, getting the best out of someone or meeting clients and helping solve their problems with technology. I find that I can repurpose all of these attributes on the weekends when I take photos. In fact I often wonder that given I started out life with a camera in my hand that maybe the role is reversed and my approach to building software and working with clients is simply an extension of how I work in a studio.

Regardless, one thing that I will never take for granted is how lucky I am that my day job has taken me to some extraordinary places around the world and last week was no exception.

I have wanted to visit Petra for many years. It's one of those places that is immediately recognisable by your friends and yet the same people might struggle to say exactly where it is. It has been the backdrop to movies and covets history from many of the major civilisations this planet has witnessed. It's an ancient city carved into the sandstone mountains and who's monuments have stored the treasure of pharaohs or welcomed the Greek and then Roman empires. All of this is framed within a jagged mountain landscape that is only made accessible by enormous canyons. 
It was these very canyons that first piqued my interest as I have an as yet unexplained interest in canyons. One day I will be able to articulate this curiosity correctly, but today I know that these magnificent creations fascinate me and make me want to capture them, ideally with someone in the centre of the frame to illustrate the sheer size of them.

There is some irony here as last year I concluded that it was very unlikely that I would be able to go to Jordan just to photograph a canyon, I mean honestly who does that? But on the other side of the world in Utah, America are equally amazing canyons and a place I could visit as part of a private tour that included a guide with transport and a model - a real no brainer!   
But last month, in some curious twist of fate it became clear that we were headed to Jordan for work. My wife asked me if I was going to take some time off to see Petra and honestly, at that moment I hadn't put the two together, but then immediately replied with a resounding YES!

Our flight landed in Jordan at 11:30pm and we were due to do a presentation in the morning. All I wanted was to get to the hotel room and shake off the five hour flight but Omar, our taxi driver, wanted to know all about us. In the twenty minutes it took to get to our hotel we had swapped numbers and Omar had confirmed he would take me on the three hour drive to Petra on Friday, after our work was complete.
​​​​​​​
Fast forward to Friday morning and I had said farewell to my colleagues and packed my bags. Our work trip had been a success but my euphoria of sharing our software had been replaced by the adrenaline of the road ahead. I was going to see Petra!

But it wasn't Omar who would take me there, it was his brother Motasem, I mean of course it was. I had learned that the country is a small network and everyone is related to each other. Omar promised to drive me back to the capital, Amman on Saturday in time for my flight home. Our journey to Petra was via a straight road that traversed a constant flat desert. It was unrelenting and despite it being February it was a decent temperature. Motasem told me that I had picked the perfect time to visit Petra as it wasn't too hot, but that also they usually expect snow in March.

Motasem dropped me off at my hotel which was ten minutes drive from the busy centre of Petra. It overlooked the mountains as I preferred the idea of a sunset compared to an easy walk to the site. I dumped my bags and switched into clothes more suited to walking in the desert and then jumped into a shuttle bus the hotel arranged for me (it was me and the driver) along with my cameras. 
The entrance to Petra has an established visitor centre that was worryingly organised. I guess I had hoped for a guy who stamped your hand with an ink marker if you crossed his palm with the right amount of cash, but instead I queued up behind a German family and bought my two day pass whilst defending my wallet from a would-be guide who looked like Captain Jack Sparrow. 

I rushed passed the tourist shops, each one emblazoned with images of India Jones promoting their wears and within moments I was walking down a dust track into the desert. I was quickly greeted by a Hamzah who asked me if I wanted to ride the rest of the way on a horse. Honestly, I 100% did, I had seen this option ahead of the trip and just loved the idea. It was going to cost me some cash, but I didn't care. I wanted to come away with the memory.

It was hard work convincing Hamzah that I didn't want to part with more cash, he was good at his job. But we made it to our destination and I was rewarded by the entrance to the fabled canyon. As soon as you enter the canyon the bustle of the dusty road evaporates and you are enveloped in a cold and almost damp sensation that only dense rock provides. It was late in the afternoon and the road was busy with people travelling in both directions. I had met people in my hotel who told me it would be busy and they were not wrong, but I had planned for this, I was staying locally so I could arrive early the next day and beat the crowds. Today was going to be a recce day, with camera of course.

The route down into the belly of Petra takes you via a single winding path where the rock formation has been pulled apart to form this magnificent canyon. Everyone on the route knows that at its end is a building called the Treasury, it is why we are here but equally we are all distracted by the titanic sandstone walls that surround us, and constantly stopping to capture the very cinematic surroundings.
However, there is a moment when you hear a collective draw of breath as we near the end of our passage and the twenty odd people in our segment of the canyon all spot the light at the end, light that is bouncing off a visible slice of the Treasury. We had arrived at our destination but rather than rush out and embrace it, we are all programmed to try and photograph that very moment, the image others have taken before us of the exit of the canyon framing this remarkable building that has been etched into the walls several thousand years ago. Petra has a million and one different vistas, but this was the one I wanted to capture most, it was why I was here so I planted my bag and got out my wide angle lens and waited. I had all the time in the world and I knew I would need it as the entrance was awash with people, each one with their phones held high to capture the same moment.

Just like a wildlife photographer, I was rewarded with my patience and the image I wanted was bagged. After that I progressed into what can only be described as a huge gap in the mountain that serves as a conduit to the rest of Petra but is also the home to the Treasury, a building that you are immediately drawn to. It is forty metres high and chiselled out of the rock. Vast columns support a triangular roofline that in turn holds aloft a number of ornate figures that reside on their own pedestals. The fable suggests that the building got its name as the pharaohs stored their treasure here and the sheer size and wealth of the place suggests the story is accurate.

I was quickly greeted by a local who invited me to part with 90 Dinars (which is over £100) to be shown a way up the cliff walls to see the Treasury from above. I had wanted to take that very image, but equally had no intention of paying for it, and soon found myself climbing the red rocks on the edges of the busy entrance. It was an easy climb and I made it past others who were struggling so by the time I arrived at the plateau I had the place to myself and took a number of photos. There is a shared camaraderie with others who achieve the same goal and we swapped cameras to take photos of each other for those more personal selfies in front of this mighty vista. 

I was a tiny fraction into my adventure in Petra but I felt complete as I had taken the photos I knew I wanted, yes I was coming back tomorrow to improve on them and see more of the city, but I wore a broad smile on my face as I had achieved so much in such a short amount of time. After this I followed the path out of the Treasury and into the wider desert and city of old. I walked for a number of hours and passed incredible structures that dated back to the very dawn of time. I saw houses caved in the rock walls that were home to the Nabataeans, whilst walking down a Roman road that included an amphiheatre and further down a church with roman mosaics in the floor. At the end of the roman road was the beginning of a new route up to the monastery, another spectacle, but that had to be for tomorrow as by now my legs were complaining.

I walked back to the entrance, protecting my wallet with every step. It's amazing how everything was available at a special price that day. That evening I had a beer overlooking the mountains and watched a perfect sunset whilst reviewing the photos I had taken during the day.
The next morning I got up at 6 am and had a hurried breakfast. I got a lift down to Petra with the same chap and was quickly bounding down the canyon. This time I didn't stop to take photos of the incredible walls, I was single minded in my desire to bypass the people on tours who had just arrived. I reached the entrance to the Treasury and once again took up position. This time easily taking the photo I had envisioned. After this I was intent on climbing the walls on the opposite side where a classic Instagram photo can be taken. I avoided the payment option and was soon high up on a slice of rock overlooking the Treasury, this time with a man serving tea and a couple, Laura and Olivier from Holland taking photos of one another.

As it turned out we all had plans to stay there and wait for the sun to make its way into the canyon and light up the Treasury. As the sun got higher the tiny outcrop of rock became busier and we swapped turns taking photos of the building and each other as it revealed itself in the light. None of us had guessed it would take an hour and a half for the light to fully light up the Treasury, but we enjoyed the wait and each other's company. 
After we had accomplished our goal we climbed down the mountain walls together handing over the location to a number of groups who had clearly parted with a fair bit of cash for the same experience. From there Laura explained that she was fixated on seeing the Monastery, the place I had missed the day before. So we agreed to travel there together as the journey was not insignificant and I knew I would need the moral support. I have a fondness for the Dutch accent and enjoyed listening to the both of them chat in perfect English as we ventured into Petra once more. This time we walked at top speed, all of us on tight schedules, toward the Monastery.

The Roman road ends and is replaced by a dusty track that eventually leads you to a set of stone steps. There are nine hundred steps that are cut into the mountainside and in the heat this feels like a formidable task, hence the moral support! As you travel upward your altitude increases and the view down into the desert valley is magnificent and almost devine. You begin to appreciate why this location was selected for such a holy place, you are just inches away from the gods.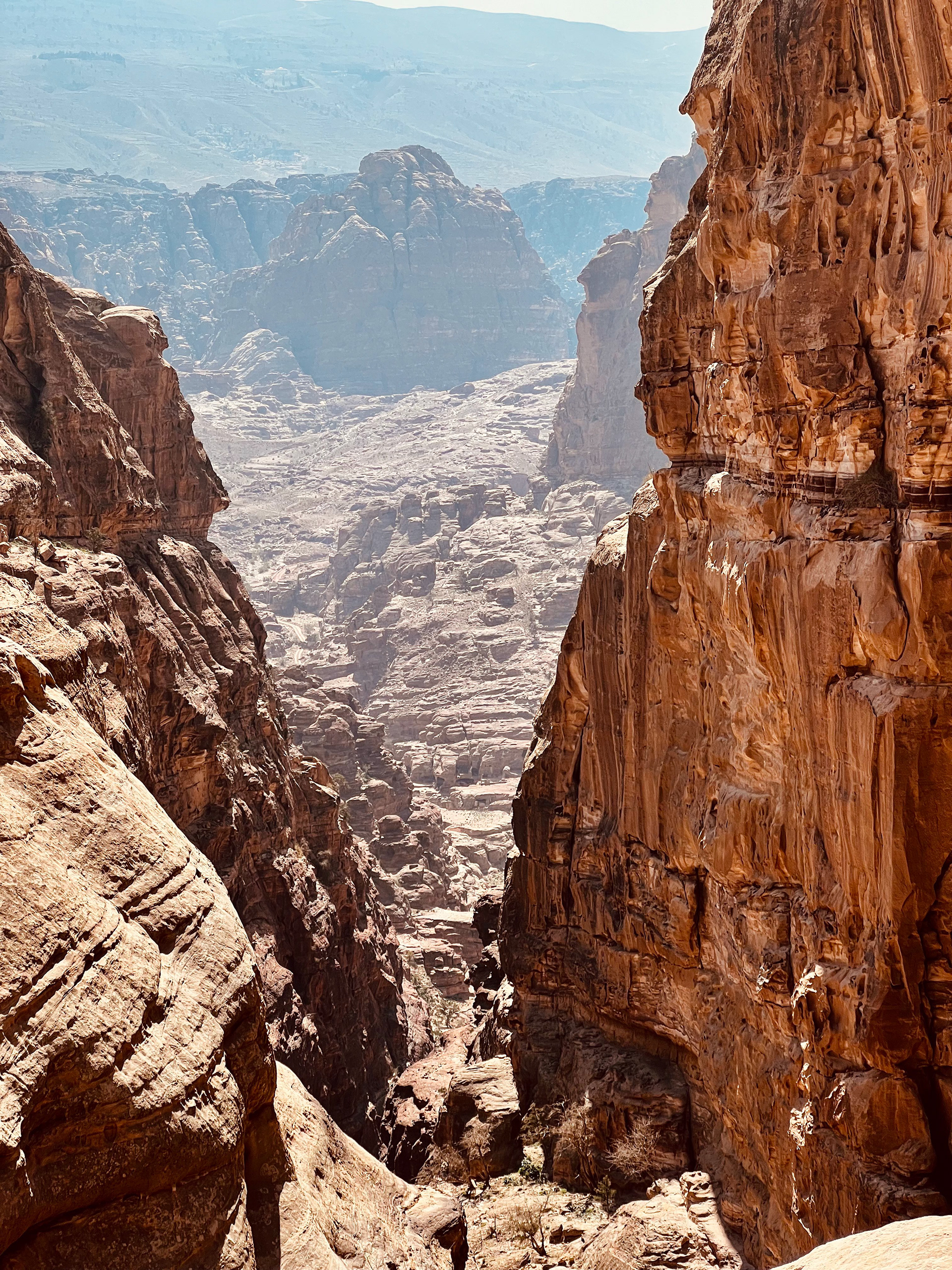 At the top is another incredible structure, the big brother to the Treasury. It is wider and deeper but of the same mighty design and this time is surrounded by fewer people, perhaps as a result of the challenge to get there. We took a number of photos together and then flopped on some sofas by a cafe and enjoyed a non-alcoholic beer in front of this ancient place.

We chatted and swapped numbers so I could later share the portraits of my two Dutch friends. Afterwhich I said farewell and then quite literally ran back the several miles down the mountain and across Petra to the entrance for I needed to get a taxi back to Amman. This time I was to be transported by another of Omar's brothers, my taxi fairing family. 

I stayed a handful of hours in a hotel in Amman and then at 5 am the next morning Omar collected me to take me to the airport. By now I had met a decent percentage of his family and this was exactly as he liked it, he was a proud man and loved sharing his country with others. During my journey to the airport he gave me a rosary made by his mother, something to remember him and his family's enterprise for next time I was in Jordan.

I had travelled to this country for work but left it feeling I had witnessed so much more. I was rich in new experiences and eager to discover the photos I had taken once I got home. Thank you Jordan for a brilliant time in your country!